The Bigma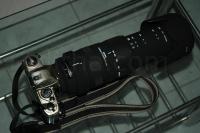 For a long time, I have been looking to get hold of a Sigma 50-500 Telephoto lens. Finally after a long waiting period I got hold of one last Friday. I immediately went with it to Sigiriya. You can look forward to seeing some photos at my photoblog
I had a long wait for this lens because it's pricing in Sri Lanka is outrageous. So I asked my sister to pick one up from the US. Unfortunately it was back ordered at many Lens and Camera but fortunately it wasn't back ordered at Amazon.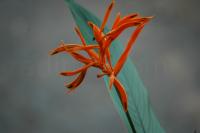 If you attach the lens to my old faithful FM 10 it looks rather strange. Well, using a zoom lense like this with an old camera like the FM 10 is rather pointless anyway. The auto focus for one will not work on it and manual focus isn't all that easy.
So why did i attach the lens to my old camera in the first place? because I wanted to find out if the Sigma DG lens still has the 1.5x multiplication like the old Bigma. And the good news is that it does. So ladies and gentlemen, the Sigma APO 50-500mm F4-6.3 EX DG HSM does indeed act as 75-750 mm lens when attached to a Nikon DSL.
I am very happy that I bought this lens. In many forums it's said that 'in good light you will love it'. I certainly do. It's not so bad in bad light either. This half moon was captured without a tripod while at Sigiriya. The flower was also shot without a tripod look at the bokeh.
The tripod certainly needs to be replaced cause it doesn't feel strong enough to hold this monster and I am still very nervous about using it. I wanted to buy a UV filter for it but that's a whopping 10,000 Rupees at Phototechnica. The filter for the D70S kit lens was only about 1500