FC4: Hey where is my menu
After overcoming several pitfalls
I successfully managed to boot up my Fedora Core 4 installation. Unfortunately it seems the worst is still to come.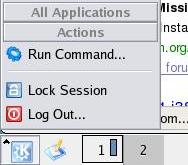 My first reaction after KDE started up was "Hey what have you done with the menu?". All the menu items have gone missing. As usuall google was of no use. So I concluded that there was a bug in Fedora 4 and started to update the KDE RPMS. As expected that didn't solve the problem either.
Funnily enough when logged into KDE as root the menu is clearly visible so on a hunch I deleted the .kde folder. That unfortunately didn't solve the problem either. Then it was the turn of the /var/tmp/kdecache-raditha/ folder. Eureka! the menu has made a belated entry onto the screen. But now having deleted the old settings I have to reconfigure my desktop all over again.
Because FC4 installs a new kernel my web cam does not work again. I am giving up on it. Qemu has to be recompiled because kqemu can no longer be loaded. The java environment is totally screwed up because of that /etc/alternatives mess. Being a geek is hard.