Today trading at the Colombo Stock Exchange was halted when the Milanka Price Index dropped by more than 5.13% in a day. A 5% drop is nothing for a stock exchange to be ashamed about these days when markets across the world are tumbling. But this is the CSE, which had only six weeks ago had claimed to be the best performing stock exchange in Asia. So they needed to avoid embarrassment, and found a convinient excuse; out the problem. They sent out a press releasean error trade!
At 10.57 a.m. on 25th November 2011 the MPI dropped over 5% from the previous market day's close, prompting the CSE to impose a market halt of 30 minutes from 11.00 a.m. to 11.30 a.m. The market halt was lifted at 11.30 a.m.
On further inquiry, the CSE noted that the MPI had dropped by over 5% due to an error trade relating to 1,200 shares of Distilleries Company of Sri Lanka PLC at Rs. 100.00. The closing price of Distilleries Company of Sri Lanka PLC shares on 24 th November 2011 was Rs. 149.60. The relevant Broker Firm has notified the CSE regarding the error trade
All very well, except that it probably was not an error trade. There simply weren't enough buyers for many of the counters today (and for the whole of this month). 'Market sell orders' invariably led to big dips in price. For example trans Asia (TRAN) had only 100 shares in the buy order list at one stage and the same could be said about Metropolitan Resource Holding (MPRH) and these are by no means the most illiquid shares at the CSE. Other counters had bids for less than thousand shares where as sellers totaled in the tens of thousands or hundreds of thousands. All it needed was one big parcel to be sold off. In the end it wasn't even a big parcel!!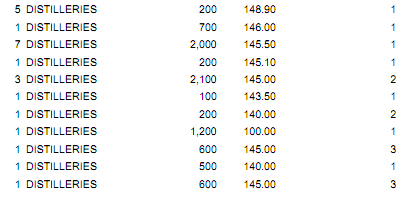 As you can see from the transaction list for DIST extracted from the CSE daily report, there was a trade at 140 and suddenly the next one was at 100 implying that someone had placed a market order for at least a 1400 shares. From 149 to 140 it's just 4% - insignificant really when you consider that at least 20 shares had lost more than 15% at the time this happened. Since DIST is an index heavy counter, the move from 140 to 100 was enough to trigger a flash crash - similar to the one that we had seen on Aug 8th when HNB plummeted in a similar manner
Some analysts are of the opinion (yeah, weasle words, in the style of the Financial Times of Sri Lanka) that the trade was actually deliberate. The market had already declined by approximately 3% when the Distilleries (DIST) transaction took place and it was very likely that a 5% decline would have happened anyway. So it was like the CSE making a visit to the dentist.
Adding weight to this argument is the fact that the trade halt was at 11:00 when the index had recovered back to 3.5% (simply because someone else had bought 100 shares of DIST at 145 as can be seen from the transaction list). So it was not an automatic circuit breaker. The market was shutdown manually