"Equity markets to face challenging times in the months to come with the knock on impact of vagaries in international arkets. We believe the CSE to be range bound and trade within a band of 6,400 to 6,800 All Share Index level"
Ceylon Guardian Investment Trust PLC
Everybody makes mistakes. Specially when investing or offering investment advice. For example the Colombo Stock Exchange does the exact opposite of what the Capital Trust Securities news letter predicts it will. But they continue to make wild predictions day in day out without the slightest embarrassment on their part.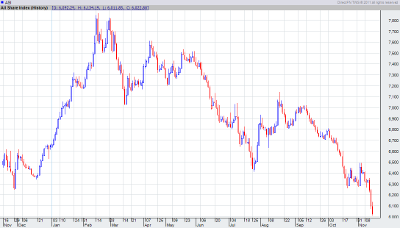 On the other hand, the above comment by Ceylon Guardian Investment Trust PLC (GUAR) is rather embarrasing becaue it appeared on their quartery financial statements which was released the very day that the CSE All share price index dropped from 6332 to 6239 over the next couple of days, the index dropped all the way down to 6022 before stabilizing. So it does not come as a surprise that Guardian has reported an EPS of  3.64 for the quarter whereas it was 15.87 for the same period last year.