Ladies and gentlemen, the challenge before you now to go through the Colombo Stock Exchange's top gainers list for today and find a counter worth investing. You may click on the table to bring up a larger, clearer one.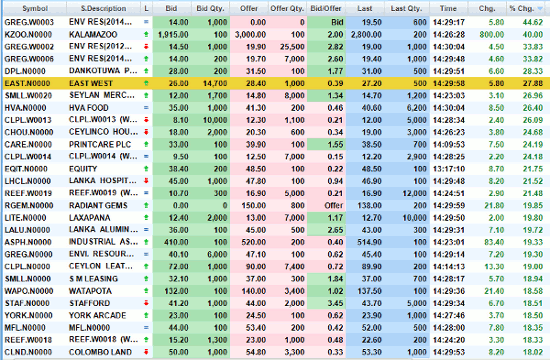 Couldn't spot anything? Neither could I. Three of the top four are 'out of the money' warrants and the second entry, Kalamazoo Systems PLC (KZOO) has no business to speak of.  Just below that you find a few other warrants, they are also out of the money. If someone gave you CLPL warrants for free, don't accept them because they would still be out of the money at Rs 0.00 . It's only a matter of time before all these counters slowly tend towards zero. We have already seen that happen with CLPL.W0012 which expired earlier this year. It's price dropped from around 14.00 to 0.10 (the lowest allowed) with in a matter of a couple of weeks.
It is on the shoulders of such giants that both indices stood to rise more than 4% just one day after the Milanka Price Index dropped 5% intraday.